The initial release of WALLPAPER – exhibited at Bank Street Arts in Sheffield in 2015 and presented in VR in 2016 as part of the Being Human Festival of the Humanities – took on a very traditional (if somewhat oddly blue-tinged) 'British ghost story' style visual aesthetic. The 'haunted' house was shrouded in mist, the tone was dark and eerie; some readers/players made comparisons between WALLPAPER and various horror-style video games.
Admittedly this did suit both the overall narrative tone and Barry Snaith's terrifically atmospheric soundtrack very well indeed, and the first release remains (at least in our opinion!) a well-rounded, stand-alone 'narrative game'.
But for our GamesLab funded VR version, we've decided to pull WALLPAPER slightly away from all of that and go for a brighter, more sun-drenched SF look. And to change what happens. 🙂
The mood is still dark and rich – yet extremely gentle and quiet. You're PJ Sanders, hardware engineer/innovator, in the middle of nowhere in the North of the UK, late evening, having flown in from the States following the death of your elderly mother. But this time, the futuristic survellience hardware you're working on doesn't just lie dormant in a bright red case – it's aware. It talks to you. And it will very much help you uncover the history behind the one room in the house that's remained locked since your childhood.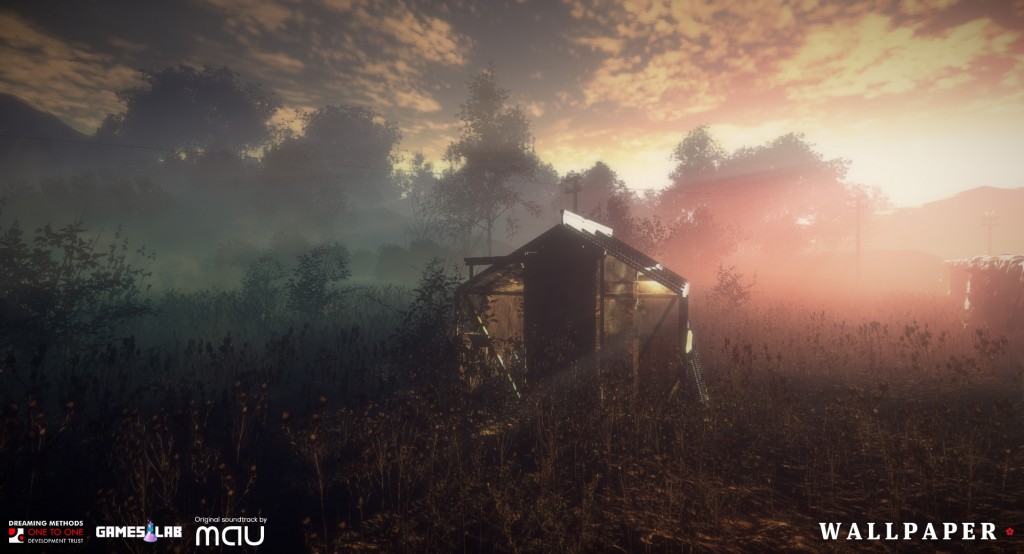 We've come a long way on a number of levels, as artists/developers since WALLPAPER's initial release – and so has the narrative. Our focus from the beginning now is on how technology attempts (and often struggles) to interpret quietness, space, disconnectedness, less globally recognisable (yet personally historically rich) surroundings, off-map locations, and powerful 'impossible human' emotional resonance.
It's been a fascinating process so far and we're on track for release in a few months. The work will be primarily a VR experience, but will also work without VR hardware (important!).
We're really excited to be working with the amazing Mau (Erika Bach & Barry Snaith) on the new soundtrack which we're sure going by their current work will be nothing short of mindblowing; and to have Sarah Jowett embarking on some fantastic historical research for us.
Please follow us on Twitter and Facebook to stay uptodate.