In my experience of working in the arts, it's not often that you get the opportunity to take an existing project into a second phase or to develop it further. However, this is the case with WALLPAPER, a narrative game originally funded by the Arts Council in 2014 as an interactive installation for a gallery setting at Bank Street Arts, and part of a research project with Sheffield Hallam University (SHU).
WALLPAPER is the story of PJ Sanders, Head of Product Innovation at US based company POPPITECH. Following the death of his mother, PJ returns to the UK to a historic home – Dalton Manor, which has been in his family for generations. Needing to clear the house and prepare for sale, PJ toys with his latest product; an experimental device primed to help him uncover the mysterious history behind a room in the house that has remained locked since his childhood. It's an immersive experience about family secrets, mysteries and the future of technology.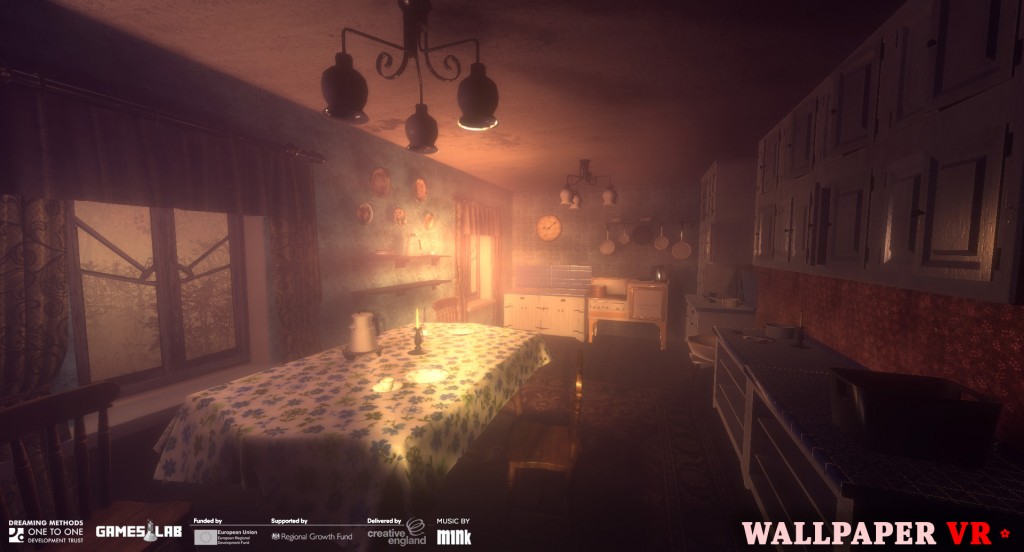 As Creative Director of One to One Development Trust, WALLPAPER is a collaboration between myself and my colleague/partner, artist/writer Andy Campbell. The research undertaken by Reading Digital Fiction (SHU) was very useful, informing us about the reader/player experience. Audiences really liked this way of storytelling as a 'new artform', a mix of text, sound and moving image set inside a landscape where a narrative can be gradually 'unearthed' and explored.
We started playing around with how WALLPAPER might work in Virtual Reality (VR) as an experiment to show at an event we ran at the Art House as part of the national Being Human Festival 2016 – the overall theme of which was 'Hopes and Fears'. For a lot of our audience at this event, it was their first go at using a VR headset. The responses were very positive, particularly at the idea that WALLPAPER might become a full-blown literary story experience incorporating visual texts – maintaining a reading element – and not just the usual shooting or puzzle game that saturates the market.
We made a short film about this event, it is a useful tool in showing wider audiences what WALLPAPER is like and how it is capturing the imaginations of readers/players. We applied to Creative England Games Lab to produce WALLPAPER as a full VR experience and were delighted not only to get the funding, but also be awarded a trip to the biggest games conference in the world: GDC in San Francisco in a delegation representing the region.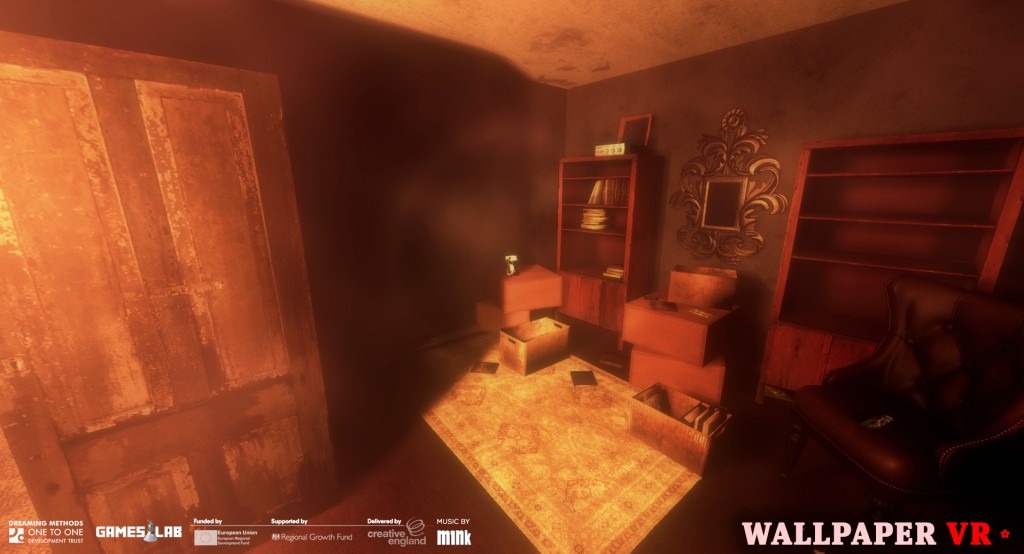 Re-purposing WALLPAPER for VR is indeed a challenge. We have rebuilt and repopulated Dalton Manor, designed new ways to interact with the game world without the need for additional hardware, created new lighting effects and transformed the overall mood and colour palette. The project also works without VR equipment using only the mouse. The technical aspects of this recreation are vast. It is a lot of trial and error, experimentation and dedication. To do this type of work you need easy access to the right tech and a highly resilient attitude to problem solving!
Our characters have been with us now for over three years and it has been great fun giving more depth to their personalities and personal histories. Developing for VR has also given us a good reason to re-imagine the soundtrack with Barry Snaith and Erika Bach of M1nk.
Within WALLPAPER there are many items and textures that we have sourced locally and from our own personal collections. Historic wallpaper from the Cow Shed restaurant courtesy of Wakefield Museum adorns the walls of Dalton Manor, as does artwork that was originally created by my mum and Andy's grandmother: 'reality' re-purposed within a Virtual Reality environment.
As we near completion of WALLPAPER VR, we are excited to have some events coming up where we can invite audiences to come and experience the VR work-in-progress and hear about the processes of its creation. We believe the potential for this technology is vast for artists and storytellers, and that the results can be uniquely captivating.
WALLPAPER events:
Sat 2nd September at the Festival for Digital and Visual Poetry in Oslo
Fri 9th September at the Nostell Nights: Hidden Spaces event
Sat 30th September: Launch and talk about using sound in VR at Wakefield Literature Festival